McWeb Software - WYSIWYG HTML Web page editor, Javascript effects and DHTML scripts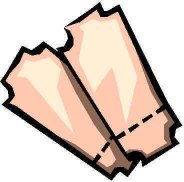 GotTix.com
FREQUENTLY ASKED QUESTIONS
WHAT DOES Pending MEAN? Tix that are pending from Ticketmaster are indicated as Pending. If you see something Pending that you'd like to buy, it is possible to place a deposit on your choice by reserving them. Call (310.733.3044) or email Tix@GotTix.com to place your request.
HOW DO I RESERVE TIX? To reserve tix, a 10% nonrefundable deposit (minimum $25) is required by personal check, money order or thru PayPal. When the tix are received from the ticket agency (e.g., Ticketmaster), you will be notified by email or phone to send the balance due, by whatever method we had previously agreed on. Upon receipt of the balance due, your tix will be sent to you by the delivery method of your choice. Please note that reserving tix takes them off the market and are held exclusively for you, so if you change your mind and no longer want the tix, your deposit will be forfeited -- please make sure you want them!
WHAT METHODS OF PAYMENT DO YOU ACCEPT?
Money order or cashiers check: Make payable and send to:
Ed A. (GOTTIX)

12228 Venice Bl #123

Mar Vista CA 90066
Credit Card Payment : Visa, Mastercard, and Discover credit cards are accepted at PayPal.com. Visa and Amex are accepted at BidPay.com. Visit their websites for more information and free signup.
Still have a question? E-mail for a quick response or 310.733.3044.